I love this simple Catification project submitted by Hauspanther reader Paul from Dublin, Ireland! Paul did something similar to what I did when I Catified my office (read about it here), by creating an easy way for his cats to access an existing surface over his desk. He simply added a few small shelves leading to the cabinet over the desk, attached some carpet tiles to the tops of the shelves to prevent slipping, and there you have it! Kitty climbing paradise without a whole lot of effort or money! And it looks great!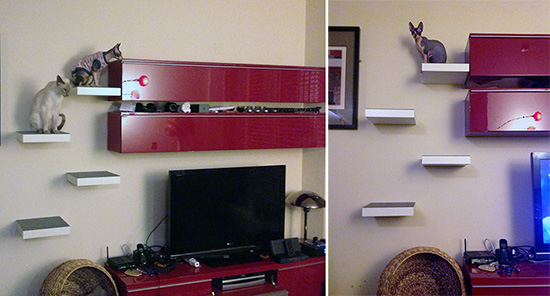 I love it when cat guardians take a look around their home and find existing surfaces that could be claimed for cat use. By making a few simple adjustments — like providing easy access or clearing off knickknacks — you can create a whole new world for your cat.
Have you done any simple Catification like this? We want to see your projects! Please submit them here.