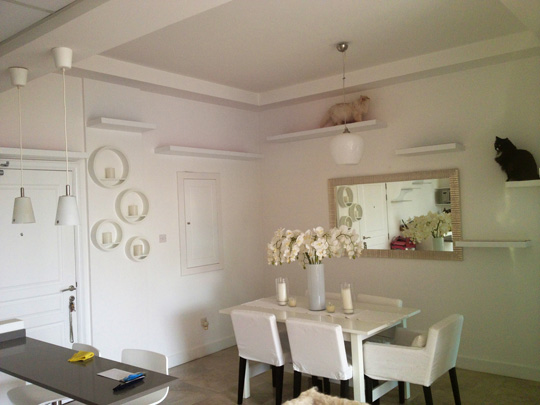 This is one of the most stunning cat-friendly interiors I've seen! So simple and elegant, the crisp white design sets off the gorgeous cats, showcasing them as the beautiful creatures they are. Alinta clearly has an eye for design!
The placement of the floating white shelves creates a perfect climbing area for Alinta's cats without being an eyesore. The shelves almost disappear. Who says you can't accommodate your cat's need to climb while still maintaining your sense of style? Nicely done.
It looks like Alinta added carpet pads to the top of the shelves to prevent slipping — always a good idea. And in the kitchen, she used the Cat Clouds Shelves from The Refined Feline. Elegant and modern, and it looks like the cats really enjoy them, too!