When Heidi and Kerry, a.k.a. the Catification Couple on Instagram, read my first book with Jackson Galaxy, Catification, they took our advice to heart, went home and started building a superhighway for their cats. As they rescued more and more cats, they just kept building, until they now have one of the most impressively Catified homes I've ever seen.
I've always loved ceiling-suspended catwalks, so when I saw theirs I wanted to know everything about how it was built and installed. Kerry used basic materials and hardware, available from any home improvement store, to engineer this elaborate kitty wonderland, while Heidi added her artistic touch with the painted murals.
Here are a few details about how Kerry created the suspended platforms. The circles are cut from 3/4″ plywood with carpet added to the tops to make them non-slip. He then attached 2″ long 3/8-16 Sammy's Threaded Rod Hangers directly into the ceiling joists. These ingenious little fasteners allow you to easily attach a threaded rod to the ceiling. It's a good idea to add an extra nut to the top of the rod to serve as a locknut.
Kerry then cut pieces of 3″ diameter lodge pole and used an aircraft drill bit (basically a really long drill bit) to drill a hole directly through the center of the pole with a countersink at the top to accommodate the nut and fastener. Next you thread the pole over the threaded rod, drill a hole in the plywood platform for the threaded rod to go through and attach the platform with a washer and nut underneath. Here's a rough diagram of how it works:
The pole helps provide stability for the platform so it doesn't move as much when cats walk on it. You can cover the pole with carpet or wrap it with sisal rope to make it a scratcher.
Another fantastic Catification feature is the floor-to-ceiling post wrapped in carpet and rope, creating a giant scratcher and giving the more agile cats another way to climb up to the walkway.
Since this is a multi-cat household, Heidi and Kerry added lots of on and off ramps, as we call them in the books, that allow cats to easily get up and down from the walkway, preventing ambushes whenever possible.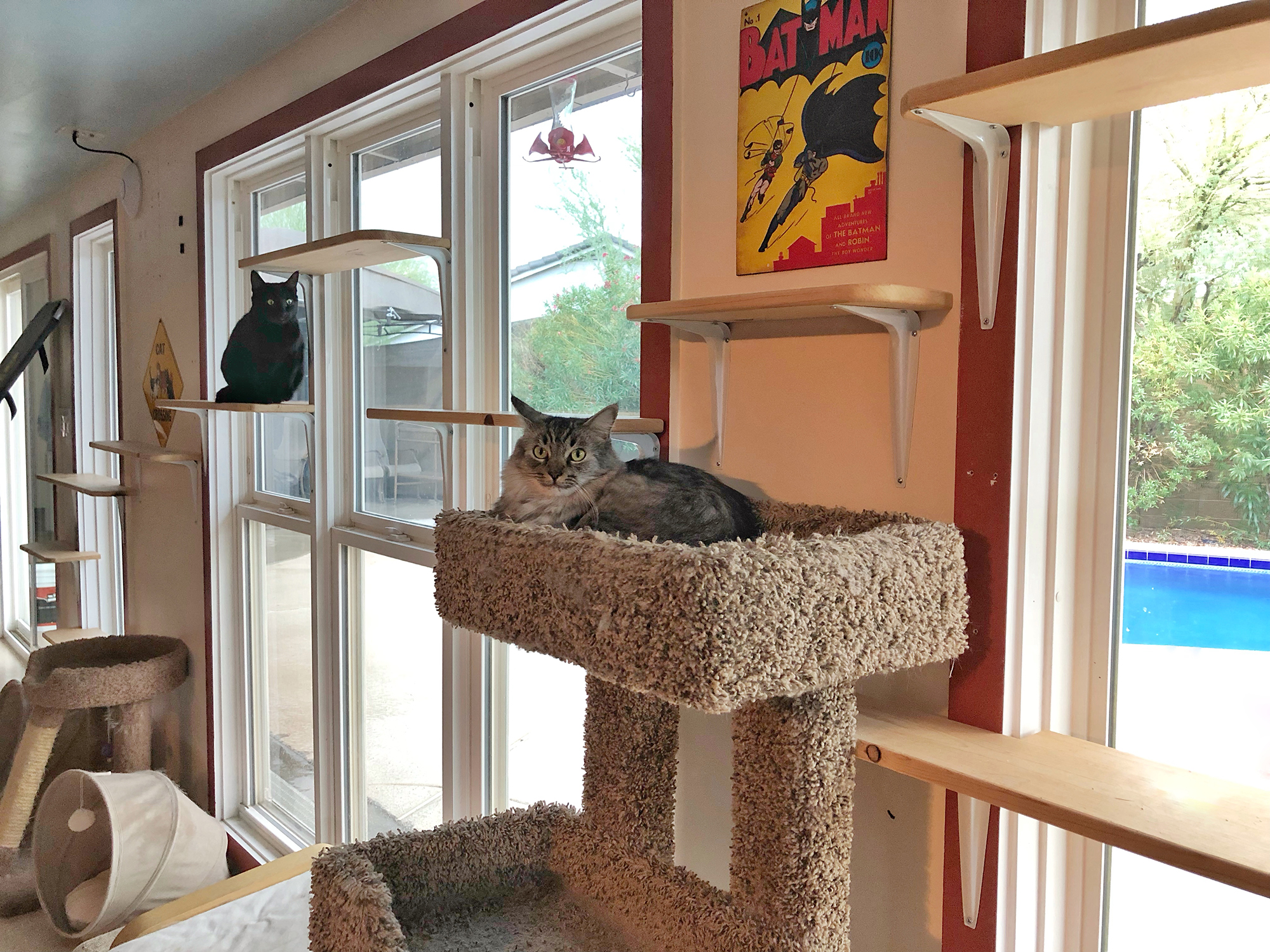 They also have an "Arizona Room," which is basically an enclosed or semi-enclosed room or patio, where Kerry started hanging some great window shelves for the cats. He plans to do a lot more Catification in this room soon, I'll be sure to post more photos!
*FTC Disclosure: This post contains Amazon Associate links. If you make a purchase after clicking on the links, Hauspanther will get a small commission. We are dedicated to finding the coolest products for cats and cat lovers and we never recommend anything that we don't love.