Harvie and her husband decided to build not one, but two custom catios at their home in Fresno, California. These gorgeous spaces, full of light and color, look like a perfect cat paradise and a wonderful place to hang out with feline family members.
To start the project, they first enclosed a large covered patio area that faces toward their lovely pool and backyard. They hired a custom builder who specializes in bird aviaries to pre-constructed the custom panels and then secure them in place with concrete bolts and screws into the stucco walls. All the panels were painted before installation, as you can see below.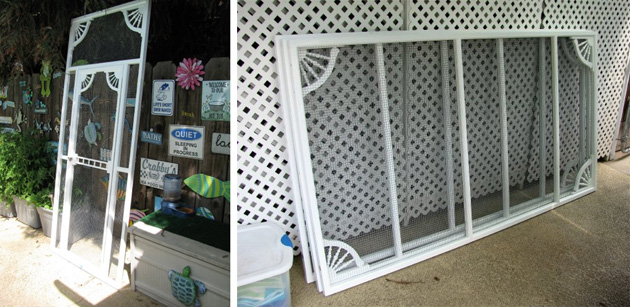 After the panels were in place, Harvie and her husband went back and caulked around the bottom to keep water and bugs out, plus they added clear Plexiglas panels along the bottom portion on the outside of the panels to keep out rain spatters, water from the pool sweep, and dust from the gardener's leaf blower.
They added two shelves, one at waist height and another way up high, for kitty climbing, plus lots of cat trees, scratchers, a litter box, and food and water. Comfy human furniture, colorful decor, and a ceiling fan add just the right touches to make everyone feel right at home.
The cats access the catio through the sliding glass doors, which have cat flaps installed in the screens. There is an alternative entrance into this catio from the kitchen window.
Since the first catio was such a success, Harvie and her husband decided to add a smaller catio off the master bedroom. This catio also has a climbing shelf, cat trees, and a loveseat.
As if living in California isn't nice enough, these lucky kitties sure do have a wonderful home!
This post originally appeared on CatioShowcase.com.