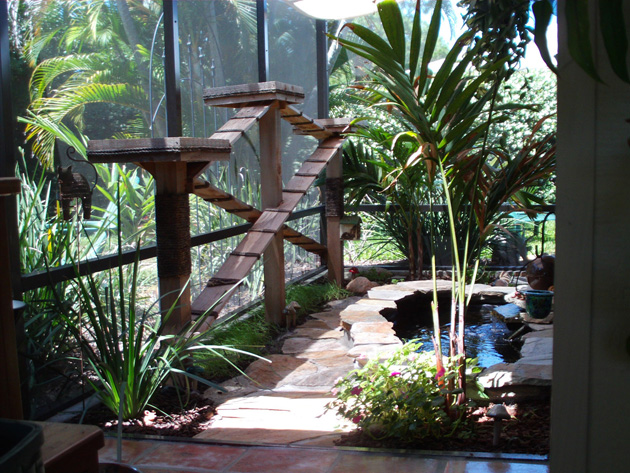 Judi and her husband live in Fort Pierce, Florida, where their lives are controlled by their four Scottish Folds, AKA the Scottish Mafia. Liam, Fiona, Fibber and Oliver have a kitty paradise in their giant 6′ x 12′ screened in catio that Judi and her husband added onto their already large screened porch area. Inside this tropical paradise, the kits get to enjoy cat-safe foliage including patio palms, impatiens and parsley, plus tons of other feline amenities.
Climbing ramps and perches are all made from untreated rough-sawn cedar that's wrapped with natural sisal. Wheatgrass and catnip patches below the ramps provide wonderful grazing areas and a cool place to nap, although they need to be replaced continuously because of a few feline junkies.
The koi pond provides endless hours of entertainment, and Judi says that the fish are perfectly safe because the cats haven't yet figured out how to get in there without getting wet.
The mafia enjoys a lovely custom made litterbox hideaway made with birch veneer and cherry stain to match the exterior of the main house.
With so many comfy spots to nap, this is definitely kitty heaven for this adorable crew.
The Scottish Mafia: Fiona, Oliver, Fibber and Liam.
This post originally appeared on CatioShowcase.com.