Welcome to everyone who is finding us from today's Washington Post article! I hope you found my litter box tips helpful. If you're looking for some stylish litter box options, here's a roundup of some of my favorites.
First we have one of the leaders in litter box style and innovation, Modkat. These boxes not only look sleek and modern but they are each designed to accommodate very specific cat needs. The Modkat XL allows for either top or front entry with extra room for larger cats. The Modkat Litter Tray is a large open litter box with an extra tall clip on splash guard. The original Modkat top entry litter box helps prevent tracking and keeps dogs and kids out of the litter. And the Modkat Flip Litter Box is a high-sided, seamless box with a lid that offers three privacy positions. They have something for every cat!
Another top brand for outstanding cat furniture design is Tuft+Paw. Their Rifiuti Litter Box Enclosure offers an elegant way to hide a standard litter box inside a stylish piece of furniture. Made from solid pine with a smooth UV coating.
Kitangle offers several styles of covered litter boxes, all made with heavy duty, seamless plastic for durability and easy cleaning. Choose from top entry or side entry in a variety of colors to match your decor.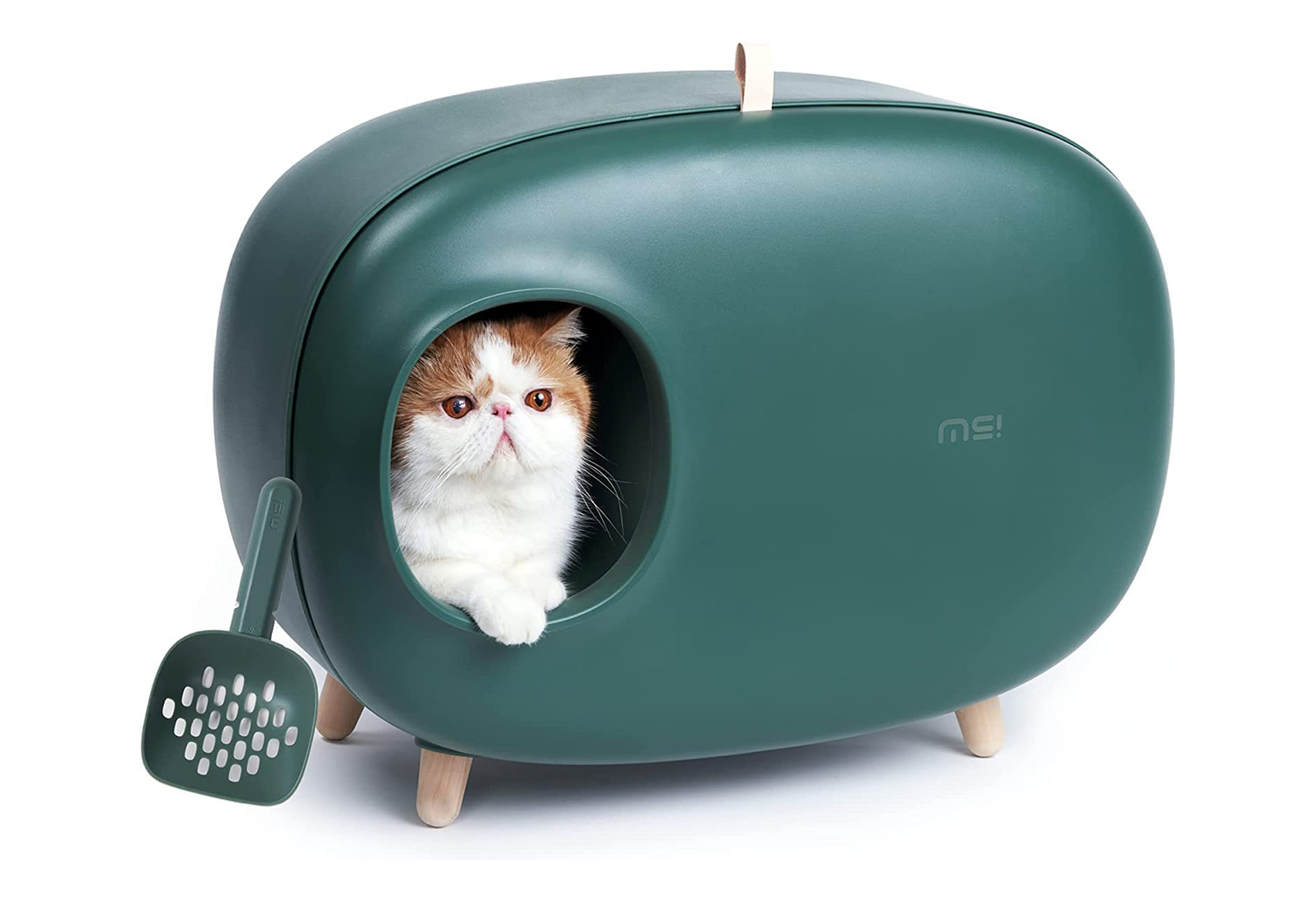 This modern litter box has a retro-modern look with wooden legs and a smooth, space-age pod shape. Includes hidden storage for litter bags and scoop. Sized for smaller cats. Available on Amazon.
Also from Tuft+Paw, Nook is a modern litter box with an industrial aesthetic. Made from scratch-resistant aluminum with tapered entrances to help prevent litter scatter. Two openings allow for easy entrance/exit and air flow.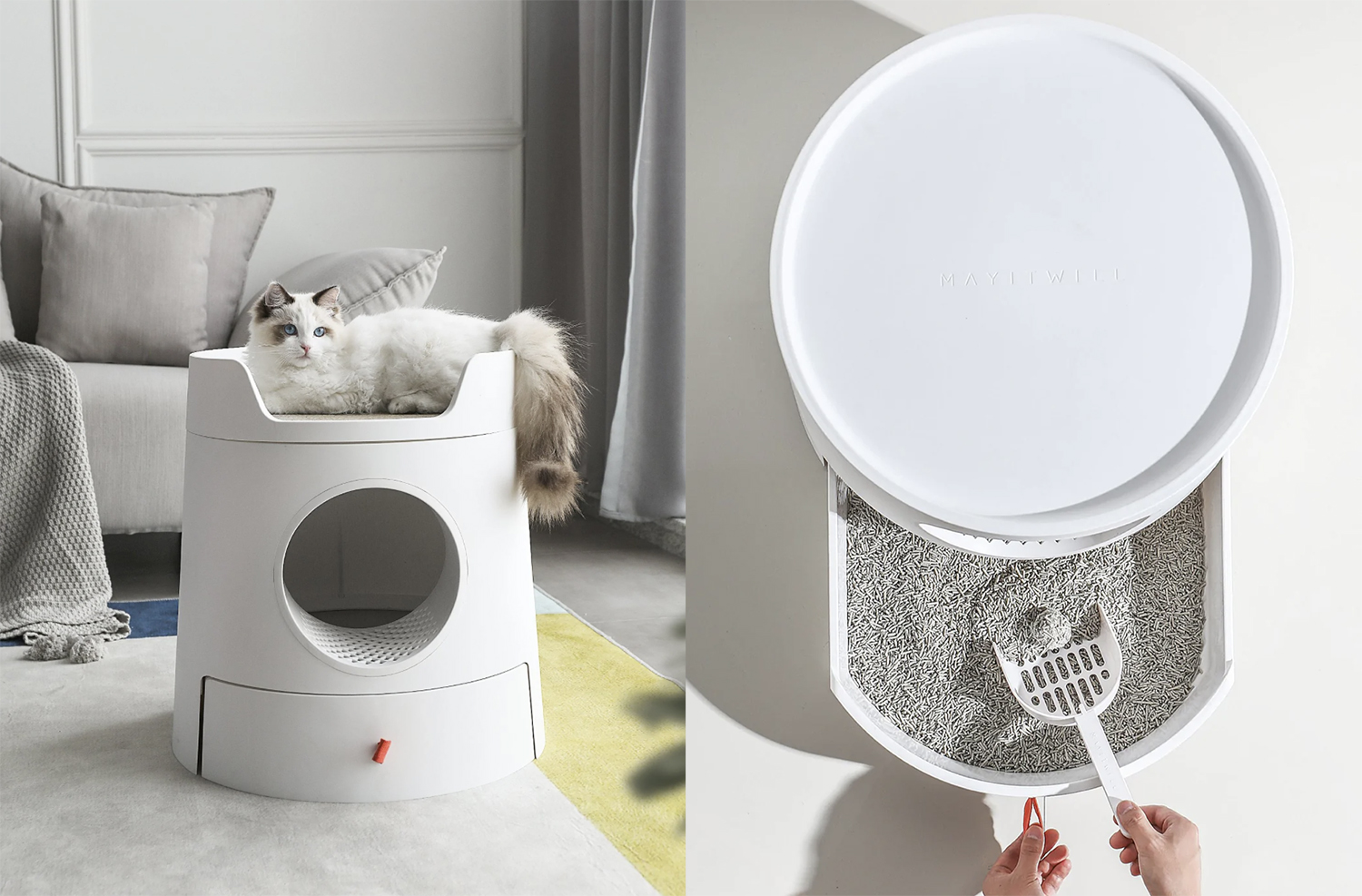 The Mayitwill Cat Litter Box from Michu has a convenient pull-out drawer for easy scooping and a cardboard scratcher-lounge surface on top. Multi-functional elegance! Available on Amazon.
Our favorite Tuft+Paw litter solution is the Cove Litter Box. This spacious, open litter box has a removable splash guard and built-in storage for a litter scoop, dustpan and brush. This box is both beautiful and functional and sits in a place of honor in our home office.
CURIO provides another stylish way to conceal a litter box with their beautiful wood veneer enclosures. Optional tall-sided litter pan fits perfectly inside CURIO, which can double as a side table.
And finally, for something different, Whisker World's Designer Litter Box is an extra large, crystal clear litter box that blends seamlessly into any interior. Available on Amazon.
. . .
*FTC Disclosure: This post contains affiliate links including Amazon Associate links. If you make a purchase after clicking on the links, Hauspanther will get a small commission at no additional cost to you. We are dedicated to finding the coolest products for cats and cat lovers and we never recommend anything that we don't love.